Ayers Ranch: Broodmares
---
We are putting together our broodmare band paying close attention to conformation, bloodlines, and disposition. We want our colts to have good bone, stamina, and outstanding athletic abilities, but they must also possess the mind to be able to do whatever is asked of them. We are trying to breed Foundation horses that can do a full days work on the ranch while possessing the agility and bursts of speed needed to compete in an arena, with great color to stand apart from the crowd.
All mares are bred to our stud ~ NLD Jo Fly Hancock unless otherwise stated.
---
Click on a mares' name to go directly to her pedigree and photo.
*NLD Lilly Hancock ~ 1996 Black Mare *Lady Drift Chip ~ 2004 Bay Mare

*PNA Driftin Dew Drop ~ 2006 Brown Roan Mare *Peggy Hancock Hayes ~ 2006 Bay Mare
---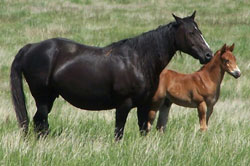 NLD Lilly Hancock
1996 Black Mare ~ 15hh
AQHA#3520719
NFQHA#F0015502 89%


| | | | |
| --- | --- | --- | --- |
| | | | Eddie Jo Hancock |
| | | Red Eddie Hancock | |
| | | | Blue Fly Bars |
| | Black Eddie Hancock | | |
| | | | Joe Buck Hancock |
| | | Jean Vee Hancock | |
| | | | Miss Rankine Blue |
| NLD Lilly Hancock | | | |
| | | | Bar Breeze On |
| | | Mutton Puncher | |
| | | | Travel In Tivo |
| | Punch Bag | | |
| | | | Salty Roan |
| | | Tarvers Rose | |
| | | | Adelle Davis |
| | | | | |
| --- | --- | --- | --- | --- |
| | | | | Driftwood |
| | | | Gray Chip | |
| | | | | Sugar Tit |
| | | Double Drift | | |
| | | | | Driftwood |
| | | | Rose Wood | |
| | | | | Miss Hondo by Hank 1 |
| | Drifts Chip | | | |
| | | | | Silver King by Old Sorrel |
| | | | Diamond Chip | |
| | | | | Scar Face S by Bailey 1 |
| | | Diamond Isle | | |
| | | | | Dusty Hancock by Roan Hancock |
| | | | Dusty Babe | |
| | | | | 803 Babe |
| Lady Drift Chip | | | | |
| | | | | Ophan Drift by Driftwood Ike |
| | | | Wilywood | |
| | | | | Oui Oui by Poco Speedy |
| | | Double Driftwood | | |
| | | | | Snippys Cowboy |
| | | | Wimpa Star Bar | |
| | | | | Wimpa Bar |
| | Four P Lady Drift | | | |
| | | | | Driftwood Ike by Driftwood |
| | | | Orphan Drift | |
| | | | | Orphan Annie C |
| | | Miss Lacy Lady | | |
| | | | | Placeurbet |
| | | | Betsy Drift | |
| | | | | Prettywood by Driftwood Ike |
PNA Driftin Dew Drop

2006 Brown Mare ~ 15.2hh

AQHA#4839297

Mare for sale ~ Broke to ride!

Open for 2019
| | | | | |
| --- | --- | --- | --- | --- |
| | | | | War Chief by Joe Hancock |
| | | | War Concho | |
| | | | | Brown Beulah by Driftwood |
| | | War Conchos Drifter | | |
| | | | | Driftwood Ike by Driftwood |
| | | | Speedy Beth | |
| | | | | Squeeky Beth |
| | Tuf Red Hancock | | | |
| | | | | Show Bar Bob by Blondy's Dude |
| | | | Hanabar Red | |
| | | | | Hanabar Blue |
| | | Dryfork Dixi Hancock | | |
| | | | | Heza Roan Dude |
| | | | Miss Crickets Dude | |
| | | | | Cricket Crane |
| PNA Driftin Dew Drop | | | | |
| | | | | Drifting Sage by Driftwood |
| | | | Rainbow Sage | |
| | | | | Miss Bar Vee by Julio's Bar |
| | | Two Square Hancock | | |
| | | | | High Tower |
| | | | Resy C Tower | |
| | | | | Tess C Chubby |
| | Two Square Kitty | | | |
| | | | | Lowry Hancock by Roan Hancock |
| | | | Quarter Hancock | |
| | | | | Ada Maid |
| | | Quarters Feline | | |
| | | | | Bee Line Dip |
| | | | Dip's Dulce | |
| | | | | Sobre's June |
Peggy Hancock Hayes
~ 2006 bay Mare ~
AQHA#4897849



| | | | | |
| --- | --- | --- | --- | --- |
| | | | | Blue Valentine by Red Man |
| | | | Salty Roan | |
| | | | | Glassy by Patron |
| | | Mr Roan Hancock | | |
| | | | | Baldy Joe by Joe Hancock |
| | | | Gila Joe Hancock | |
| | | | | Gila Girl 3 |
| | Show Bar Roan | | | |
| | | | | Blondy's Dude by Small Town Dude |
| | | | Show Bar Bob | |
| | | | | Lady Show Bob by Bar Bob |
| | | Show Bar Mae | | |
| | | | | West of Eden |
| | | | Two Step Mae | |
| | | | | Ivys Two Step |
| Peggy Hancock Hayes | | | | |
| | | | | Double Drift by Gray Chip |
| | | | Drifts Chip | |
| | | | | Diamond Isle by Diamond Chip |
| | | Quatro Drift | | |
| | | | | War Concho by War Chief |
| | | | Conchos Lady 010 | |
| | | | | Miss Canal by Frosty Joe |
| | Four Drift Cassie | | | |
| | | | | Blue Valentine by Red Man |
| | | | Gooseberry | |
| | | | | Fox Hastings by Plenty Coup |
| | | Bonnie Hayes | | |
| | | | | Blue Valentine by Red Man |
| | | | Bonny 02 | |
| | | | | Bonnie Owens by Tesas Blue Bonnet |